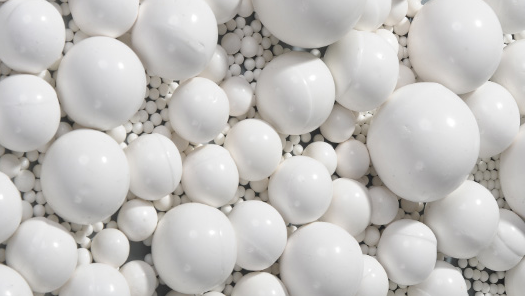 Billion thai aluminal ball is use high quality material with high tech cool insostatic pressing technology and under the high temperature calcined.
Mainly used in ceramic, porcelain glaze, glass, chemical industry. It is the grinding medium for ball mill ,pot mill, vibration mill and other fine powder grinding equipment , its grinding and wear resistance efficiency is much better than the normal ceramic ball and nature stone.
It also can be used for Polishing for metal parts and grinding for nonmetal minerals powder (such as zirconium silicate powder, kaolin etc.). It can use in all type of grinding and polishing machine.
Billion thai alumina balls are made by good quality and high temperature alumina powder with have the characters of high degree of purity, high intensity ,high hardness ,more white and less wear abrasion and nearly no effect for the grinded materials.
Billion thai alumina ball is isostatic pressed with high density, it can increase grinding efficiency ,reduce grinding time and increase effective volume of grinding mill, thereby increasing the amount of grinding material.
Billion thai alumina balls have very lower wear resistance can greatly prolong the service life of grinding medium.
It is also have high temperature resistant, acid and alkali resistant, corrosion resistant properties
Billion thai researched and developed the alumina balls for dry grinding with the character of lower wear resistance and good tenacity and solve the problem of materials pollution from the grinding media.
| | | | |
| --- | --- | --- | --- |
| 75Series | 92Series | 95Series | |
| AL2O3(%) | ≥75 | ≥92 | ≥95 |
| Moh's Hardness | 7.5 | 9 | 9 |
| Moisture Content(%) | ≤0.02 | ≤0.02 | ≤0.02 |
| Bulk Density(g/cm3) | ≥3.2 | ≥3.60 | ≥3.7 |
| Wearing Loss(‰) | ≤0.15 | ≤0.15 | ≤0.1 |
| Color | White | White | White |
Our products follows strictly with standard production process,the technicans supervise the process to record and control the key quality point.The quality of our products can meet the request from different countries and areas, and has got high reputation.
Package and Transportation
In order to serve customers with timely delivery, we load the products to steel drums or containers bags timely after check. And then transport the goods by truck, vessel or air, to assure the goods arrive at customers' dominated place with safety.