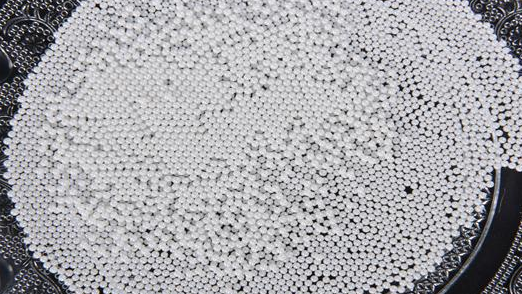 The zirconia grinding bead developed and produced by our company is made by using yttrium oxide as stabilizer, titration or dry powder isostatic pressing molding, high temperature baking and phase-fixing process.The small diameter of the micrograin gives it higher compactness and excellent wear resistance.Small bead size matching bar pin type (or horizontal) sand mill, while large bead size is particularly suitable for vertical mixing mill, horizontal ball mill, vibration mill and other equipment.
High grinding efficiency: yttrium stable TZP zirconia ceramic microbeads is 1.6 times the proportion of ordinary zirconia beads, the same conditions with higher grinding efficiency.
Good liquidity: product roundness is good, smooth surface, wear to the equipment than other wear medium are low.
Impact resistance, low wear: TZP zirconia ceramic microbeads toughness, high speed, high concentration of the machine does not crack, open stripping, wear only zirconium silicate beads 2/1.
Low cost: the selection of this product will bring you such as medium abrasion, power consumption, labor, equipment and other comprehensive cost reduction, product quality greatly improved.
Wear and corrosion resistant products: coating, textile, pigment, printing and dyeing
High strength, high toughness products: magnetic materials, piezoelectric ceramics, dielectric ceramics
Pollution prevention: medicine, food and cosmetics
Ceramics: electronic ceramics, refractory ceramics and structural ceramics
| | |
| --- | --- |
| Index name | Index |
| (ZrO2(HfO2) + Y2O3)content% | ≥99.5 |
| the spherical degree95% | ≥95 |
| Rough surface Ra(um) | ≤0.2 |
| Bulk Densityg/cm3 | ≥5.95 |
| vickers hardness HV5(GPa) | ≥12 |
| Average grain size(um) | ≤1.0 |
| the wear rateg/(kg•h) | ≤0.1 |
Our products follows strictly with standard production process,the technicans supervise the process to record and control the key quality point.The quality of our products can meet the request from different countries and areas, and has got high reputation.
Package and Transportation
In order to serve customers with timely delivery, we load the products to steel drums or containers bags timely after check. And then transport the goods by truck, vessel or air, to assure the goods arrive at customers' dominated place with safety.