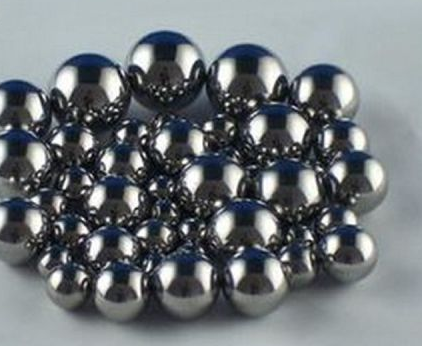 GCr15(AISI E52100) is high carbon chromium steel that exhibits very high hardness and excellent resisitance to wear.It's used for precision ball bearing and the grinding of high performance powder,other industrial application.
Manufacturing Process and Characteristic of Chrome steel balls:
Each specification, each furnace number of the material are inspected.If the wire, also need to stretch (wire drawing), wire drawing machine to the required diameter.
Under normal temperature, the raw material will undergo plastic deformation to form a ball billet.
Remove the ring belt on the surface of the ball billet and improve the roughness of the surface of the steel ball, so that the ball billet is preliminarily spherical.
After carburizing the ball into the heat treatment furnace, quenching and tempering, so that the ball has a certain carburizing layer and hardness, toughness and crushing load.Some manufacturers use advanced network belt heat treatment line, through all kinds of instruments for quenching and tempering time and temperature of the process parameters for effective control, to ensure the stability of product quality and controllability.
By means of reinforcing machine, the steel balls are impinged on each other, and the surface of the steel balls is strengthened by plastic deformation. It is a processing method to improve the compressive stress and surface hardness of the steel balls.
The surface quality and shape of the ball are further improved by grinding the fixed iron plate and the rotating wheel plate under certain pressure.
Using two cast iron primary grinding pan, then adding abrasive, through a certain pressure and mechanical movement, to achieve the precision of the surface quality process.
100% manual selection.Then add AVKIO flaw detector: three methods including photoelectricity, eddy current and vibration are adopted to select various types of defect balls, such as surface defects, superficial surface layer cracks and internal material defects.
Adopt two cast iron lapping plates, add abrasive, under the action of a little pressure and mechanical movement, consume some allowance, further improve the ball precision and surface quality.
Improve the cleaning quality and reduce the surface damage of the steel ball through the screw type cleaning machine and the lifting type turnover box, and constantly circulating filter cleaning fluid, to ensure the cleanliness of the steel ball.
The final inspection shall be carried out for each batch of steel balls in accordance with the requirements of the process, such as roundness, hardness, metallography and stress of steel balls, with specific reference to the inspection reference book.
Use anti-rust oil, spray anti-rust and pack according to customer's packing requirements.
Chemical Composition of chrome steel ball
standard(%)

GB GRr15

AISI 52100

chrome(%)

1.40-1.50

1.30-1.60

carbon(%)

0.95-1.05

0.98-1.10

silicon(%)

0.15-0.35

0.15-0.35

manganese(%)

0.25-0.45

0.25-0.45

phosphorous(%)

≤0.025

≤0.025

sulfur(%)

≤0.025

≤0.025

nickel(%)

≤0.30

-

copper(%)

≤0.025

-

molybdenum(%)

≤0.10

≤0.08

hardness(%)

60-67HRC

specific grabity

7.87

7.87

size range

1.0MM-25.4MM

grade

G10,G16,G25,G100,G500,G1000,G2000
Characteristics of chrome steel ball
High carbon chrome steel
Not corrosion resisitant General Usage of chrome steel ball
Bearings
Grinding
Castors
Locks
Drawer